Walking Trails
We've put together a few different walking trails to help make the most of your visit to Light Up Lancaster!
Click on the images for a better view
Or 'Right Click > Save Image As' to download!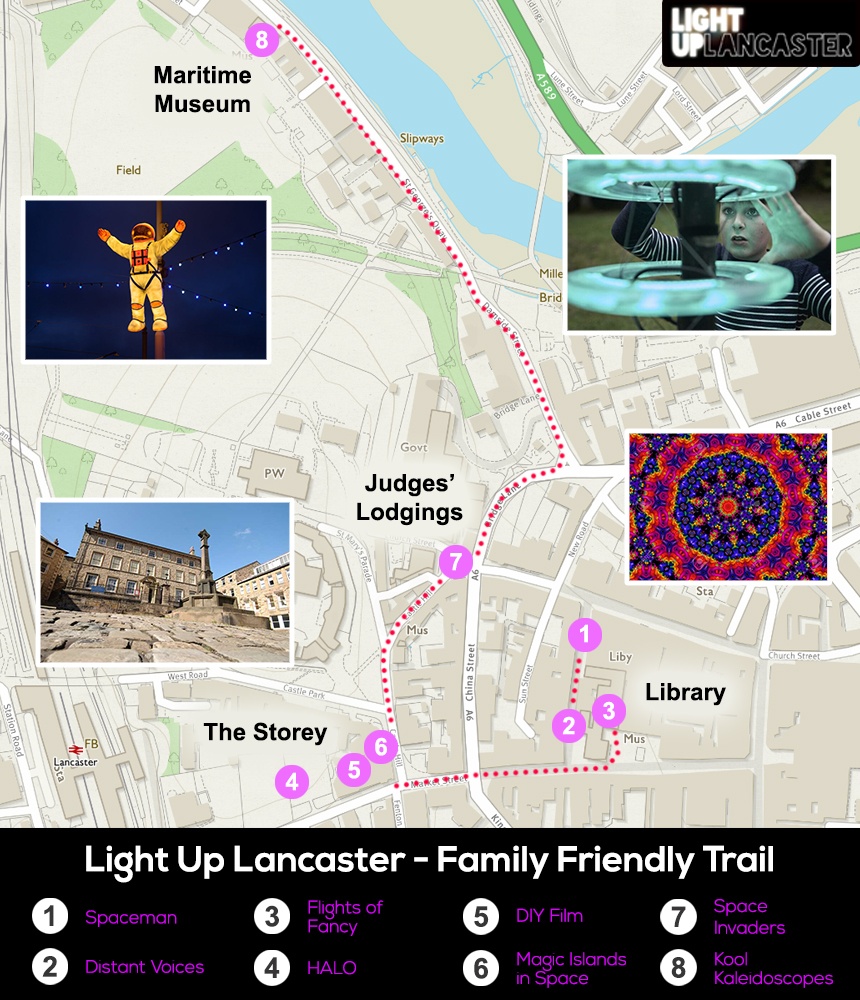 Family Friendly
Looking for some art installations to entertain the whole family? These are all mostly interactive, allowing your kids to get hands on with some amazing art pieces!
Flights of Fancy – City Library
Planetary sounds and sights – learn about the atmosphere and get to grid with coral reefs through Minecraft! By Lancaster University Family Zone.
HALO – The Storey Gardens
Interactive, audio and visual, kinetic installation for people of all ages!
Magic Islands in Space – The Storey Auditorium
Musical, sensory, interactive installation designed specifically for children and families!
DIY Film – The Thomas Storey Room
Star in your own 15-second film using green-screen technology!
A Space Invasion – The Judges' Lodgings
Interactive Space Invaders installation. Control the ship projected on the 80ft building, accompanied with a live synth band playing the music and sound effects!
Distant Voices – New Street (Market Street end)
Light and sound art piece featuring 'infinite' tunnels!
Spaceman – New Street (Church Street end)
Come and take a selfie with this brave astronaut as he or she prepares to voyage into the skies!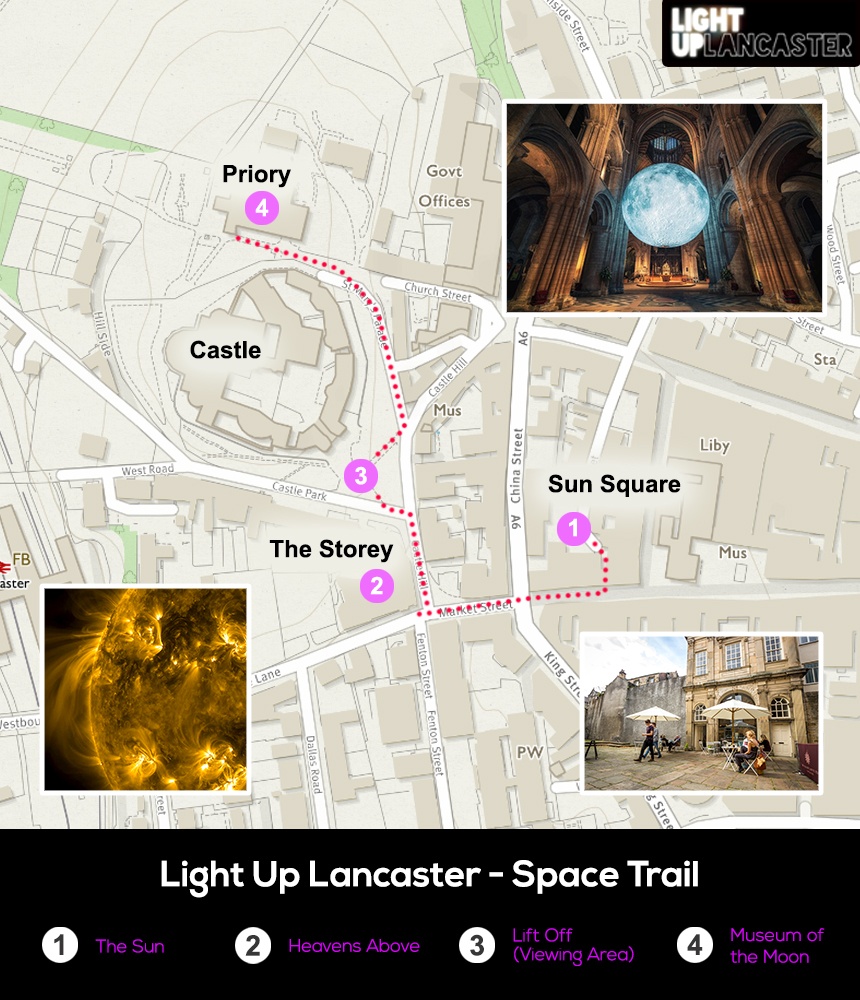 Space Exploration
Get up close and personal to some planetary bodies and watch an incredible space shuttle launch!
Sun – Sun Square
A world premiere of stunning 360° astrophysical data of the Sun, courtesy of NASA
Museum of the Moon – The Priory
7m wide, photo-realistic, internally-lit model of the moon! Hanging from the ceiling of The Priory, come and enjoy the Moon in all it's 1:500,000-scale glory!
Lift Off! – Ashton Memorial
Watch the incredible launch of a Space Shuttle projected on Williamson Park's Ashton Memorial!
Heavens Above – The Storey Music Room
Lie back on the floor and journey into the skies of Lancaster, projected onto the ceiling of The Storey's Music Room.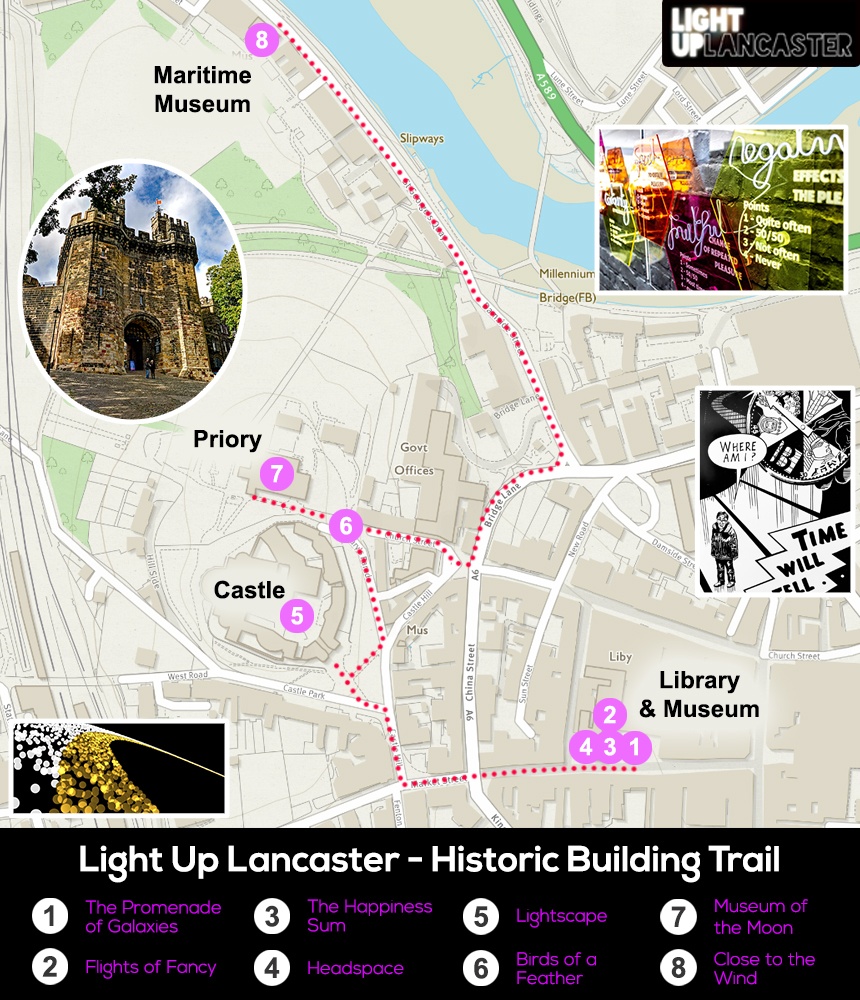 Historic Locations
While you're enjoying the wonderful art installations, you can also marvel at all the wonderful historic buildings Lancaster has to offer!
The Promenade of Galaxies – Market Square
A participatory promenade performed by the youth dance company of Ludus Dance!
Flights of Fancy – Lancaster Library
Hands-on, light-based and interactive activities for people of all ages!
The Happiness Sum – City Museum
Interactive installation that poses important questions about what makes us happy!
Headspace – City Museum
Soft-focus, chill-out zone light installation
Lightscape – Lancaster Castle Courtyard
An ever-changing digital canvas of flowing colours and tones