Preston Mela passes the light from Diwali to Light Up Lancaster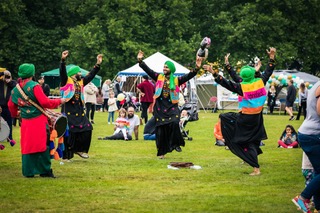 As Diwali, the Hindi festival of light, draws to a close, the Preston City Mela performers will 'pass the light' on as our own creative celebrations get under way on Friday, November 5.
Horseshoe Corner, just in front of St Nics in the centre of the city, will be a riot of vibrant, colourful music and dance. For two hours from 7pm, the marvellous Mela performers will capture how Diwali symbolises the victory of light over darkness, good over evil, and knowledge over ignorance.
Look out for the Abhinandana Dance Academy a Preston based Indian dance school. The students are trained in Classical, Folk & Bollywood dances and have given scintillating performances across UK at various prestigious platforms like the London International Arts festival, Tour De France Festival(Halifax) and the Olympic torch procession.
For Light up Lancaster, the dancers will be presenting special performances based on the theme of light in colourful costumes, light up props and foot tapping music to complement their dance performance and also to highlight this year's theme Flights of imagination.
The dance feature also includes audience participation, with a chance to learn a few simple dance moves and to dance along with the professionals.
The Apna Beat Manchester Dhol Players will also feature, along with Sikh Dancers.  Dhol Playing has its roots in Punjab and is one of the most used instruments played at celebrations and at festivals.
Violinists, Gayatri Suresh and Radhika Agarwal, dressed in traditional costumes, will also be performing both Bollywood & Western Tunes to complete a fantastic experience for Lancaster families at LUL.