Open Call for Windows Project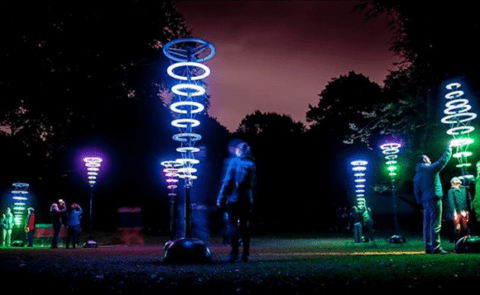 Open Call for Windows Project
Artists are invited to submit project proposals for Light Up Lancaster Festival 2021.
About Light Up Lancaster
Light Up Lancaster Festival is in its 8th year. The event dates are Friday 5th and Saturday 6th November, culminating in a fireworks finale on the Saturday night.
Light Up Lancaster is delivered by a partnership made up of Lancaster Arts Partners, Lancaster Business Improvement district (BID) and Lancaster City Council. The Festival is planned and managed by a Steering Group which includes representatives of the local business community and arts organisations. The Festival is programmed by a freelance Artistic Director.
Call for Light Art Installations for Shop Windows
We are now looking to programme some small-scale installations to complement our selected core arts programme. All proposals should be for work to take place in Lancaster city centre shop windows. Advice on available sites will be given in consultation with Lancaster Business Improvement District (BID). The installations should be available for both nights of the festival and then for longer runs up to the Lancaster BID's Christmas Lights 'switch on 'event.
5 professional commissions are available.
Utilising 5 shop units in Lancaster city centre, 5 local artists/collectives will each create magical, illuminated installations.
All projects should have light as an integral feature of the work and should explore our 2021 guiding theme, which this year is Flights of the Imagination and must be suitable for a family audience.
Funding of up to £1,000 is available for each of the 5 selected projects.
Our Process
All proposals will be assessed by the Light Up Lancaster Artistic Director, supported by members of the Steering Group. Proposals will be assessed on these criteria:  artistic quality, ambition and innovation, financial and logistical viability, value for money and connections to our guiding theme, Flights of the Imagination.
Key dates:
September 10 – Closing date for proposals
By September 17 – Offers made
Further Information
How to Submit Your Proposal
Send no more than 2 pages, to include:
Your name and contact details
Your proposal title
Outline of your proposal (no more than 400 words)
A bit about your work / practice (no more than 400 words)
Further info about logistics / support you will need (no more than 400 words)
A brief budget breakdown
Images (if you have them)
Your website (if you have one)
Tell us where you found out about this opportunity
Please submit to: takepart@lightuplancaster.co.uk
Further Info
The Festival:
The Festival is a self-guided trail through the city centre on 2 evenings. Audiences see installations, performances and events – mostly outdoors in the city's open spaces and set against the backdrop of the heritage buildings, but some inside venues.
On the Friday evening (5 Nov) all installations / artworks run from 5pm – 10pm. On the Saturday evening (6 Nov) installations / artworks run from 5pm – 7.30pm, followed by the annual fireworks display at 8pm, lighting up the historic landscape and skyline of the city.
The Festival is free and family friendly. Engagement opportunities will be available to audiences and local communities in the lead up to the festival and throughout the weekend.
More information about Light Up Lancaster can be found here www.lightuplancaster.co.uk
Support:
All installations should be technically self-sufficient and budgets calculated to include all technical requirements. Projects will be supported by the Festival Creative Producer and a Technical Production Manager. All installations will be marketed centrally by the Light Up Lancaster Festival & BID.