Artist Open Call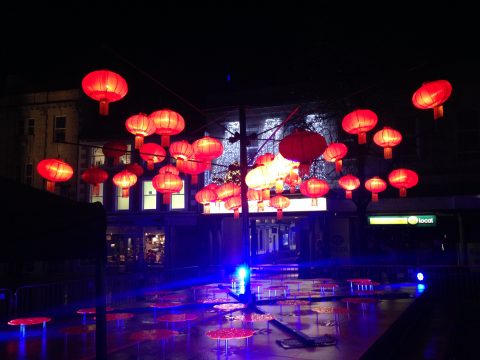 Light Up Lancaster (LUL) is partnering with the Confucius Institute at Lancaster University to support the creation of a new, light art installation for the 2022 festival, November 4 & 5.
We are seeking project proposals from creatives inspired by working in a light-based medium and have a particular association with Chinese heritage and culture. The piece of work should celebrate Chinese heritage, be light-based, and consider the themes of this year's event (see below).
Theme
The theme for the Festival in 2022 is Turning Points.
It's a flexible theme which aims to encourage presenters, audiences, and participants to reflect on those times in life – personal, social, scientific & environmental – when things could go one way or another… when changes happen.
Turning Points, then, will shed a brilliant light on moments of ponder, of positive decision-making, of collective endeavour and change for the good.
Example ideas which could be explored include:
Crossroads – decisive decisions individuals and society take; make or break times
Pivotal – the build-up and defining moments of change, the point of no return
Breakthrough – the eureka flashpoint when, in an instant, a new perspective emerges
Coming of age – those hugely significant and meaningful moments in our lives
Milestones and landmark events – celebratory red-letter days which resonate beyond the events themselves
Moment of truth – where impact and outcome collide with decisions, watershed moments
Epoch making – change on a grand and memorable stage
Literal – junctions, signposts, things that turn
Call for Project Proposals
The Confucius Institute at Lancaster University, as in previous years, is working with the LUL creative team and we are looking for projects which will fit well with the theme, are engagement friendly or could feasibly be installed imaginatively in a variety of spaces/places across the festival.
All projects should use light as a creative medium.
The commission available for the work is £5K. This is the total commission available and should include fees, materials, transport.
Process
Send your short proposal of no more than two sides of A4, along with samples of work and outline budget, to LUL Producer, George Harris: georgeproduces@gmail.com
Closing date for proposals: Monday, July 11
Shortlisting: w/c Monday, July 18
Notification of commission: w/c July 25
Festival Dates: Friday 4th and Saturday 5th November