Keep A Light On
In the winter of 2020, we had fun
helping to keep the spirit of Light Up Lancaster alive!
---
New magical artworks in the city centre
From mid-November onwards, artists created three new temporary artworks in empty shop windows.
Stunning installations were created by Jenny McCabe, BCL Lighting, and Taylor Woodcock & Hannah Corcoran in locations around the city centre.
---
Make your own shop window display – digitally!
We invited everyone to create their own unique, digital shop window display by downloading the 'frame' of a city centre shop window, then sending us their own KALO windows for our gallery.
---
Make your own home a special Light Up Lancaster window on the world
We invited you to transform your own front windows throughout the months of November and December by making twinkling installations and displays that spread the message that, despite 2020 being a tough year for so many people, warmth, joy and light still shone in our hearts.
---
KALO was a Lancaster City Council, Lancaster BID and Dukes Project.
#keepalighton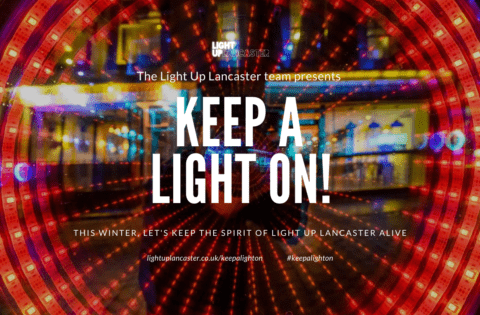 ---
Image above by Robin Zahler Design + Photography
---