Zomotion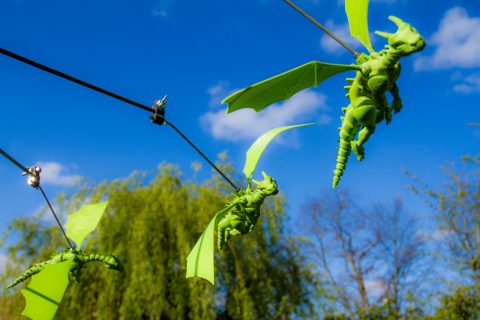 Now finishing at 8.30pm on Saturday evening.
Zomotion zoetropes are light-based animated sculptures. Sequences of individual models rotate above head-height to create live 3D animations for the viewer. The  models are mounted on individual spokes, rotating from the top of a three metre high central pole.
Unlike other 3D zoetropes, the Zomotions light source moves independently and illuminates only one model at a time, in precision-controlled bursts, to create an almost holographic, travelling animation in real 3D space – a moving sculpture before your eyes. Looking up to see flying dragons, swimming whales and other creatures in flight against the real night sky is a somewhat mesmerising experience, and is occasionally even complemented by curious bats.
---
By: Karl Wilby
Location: Storey Gardens
When: Friday 5pm – 10pm and Saturday 5pm – 8.30pm