The Hourglass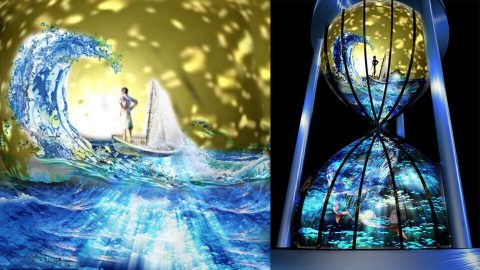 Now finishing at 8.30pm on Saturday evening.
Look! You're flying in a storm, traipsing through the desert, swimming across the oceans, on journeys filled with excitement and danger.
You are a young boy on an epic quest for safety, a wandering crane, a whale dashing across the ocean, all migrating to find new hope.
Migration is the most natural thing in the world. Animals and humans have made epic journeys across our planet for as long as the world has existed. Immerse yourself in an interactive show that will help audiences to connect with the idea that we are all 'one world' and 'one people' on our journeys of discoveries. Emergency Exit Arts presents The Hourglass, a new sculptural piece with projection mapping created in collaboration with light wizards Illuminos with an inspiring story by @arjimanuelpillai
---
Location: Market Square
When: Friday 5pm – 10pm and Saturday 5pm – 8.30pm
Produced by: Emergency Exit Arts in partnership with Illuminos and Arji Manuelpillai
https://www.eea.org.uk/hourglass