Leap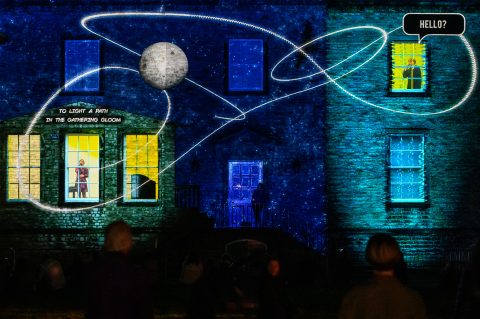 Last showing on Saturday evening now 7.45pm.
In a series of phone calls, across landscape and time, LEAP takes a joyful look at human endeavour and the greatest journeys we might hope to go on.
An animated patchwork of scenes unfolds across the courtyard wall of Lancaster's historic castle, transforming it with stunning projection mapping and a lush soundscape. LEAP uniquely combines beautiful projection mapping, animation and film with inventive storytelling and uplifting original music performed live, taking the audience on an imaginative journey across the sky, into the dark, into the night and into the future.
---
Location: Lancaster Castle
When: Friday 5pm – 10pm and Saturday 5pm – 8pm
By: imitating the dog
Originally commissioned by Lakes Alive
Video Design & Lyrics by Simon Wainwright
Music by James Hamilton
Lighting Design by Andrew Crofts
Singers: Jenny Chamberlain Smith, Kate Peters, Simon Wainwright
www.imitatingthedog.co.uk
facebook.com/ImitatingTheDog/
https://twitter.com/ImitatingtheDog