Entwined Light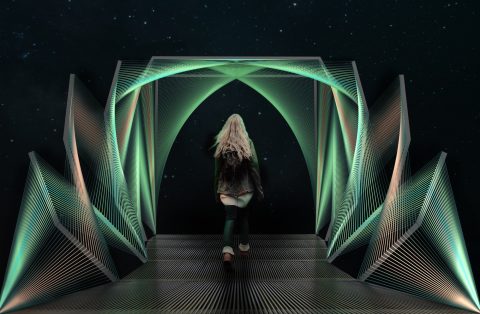 Finishing at 7.30pm on Saturday evening.
Entwined Light tells the story of the ever-evolving relationship between the artificial and the natural through the transitional interplay of form and light.
The exoskeleton is a symbol of the man-made, while the photo-luminescent thread, powered by the sun, is an expression of the natural. The artwork provides the visitors with a path through this system in transition from natural organic body to controlled man-made configuration and vice versa.
Entwined Light is a multi-layered piece that unfolds throughout the day-night cycle. Variations in colour and illumination invite the visitors to take part in the story and revisit the installation at different stages throughout the cycle. Taking inspiration from bioluminescence in nature, the installation demonstrates alternative methods of generating light by utilising the inherent properties of photo-luminescent materials. While the threads are soft in colour during the day, they activate in vivid blue and pink at night through a network of solar powered UV lights. Passively charged by external light, the threads change colour and continue to glow when the lights are switched off.
---
By: Antoniya Stoitsova & Nicolo Bencini
Location: The Storey Auditorium

When: Friday 5pm – 10pm and Saturday 5pm – 7.30pm
https://instagram.com/entwinedlight
https://instagram.com/100itsover
https://instagram.com/nicolo_bencini